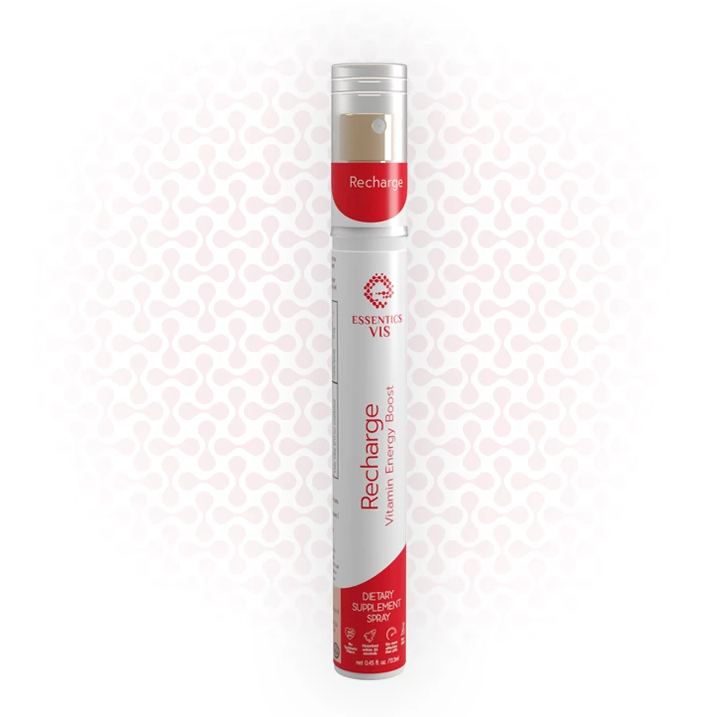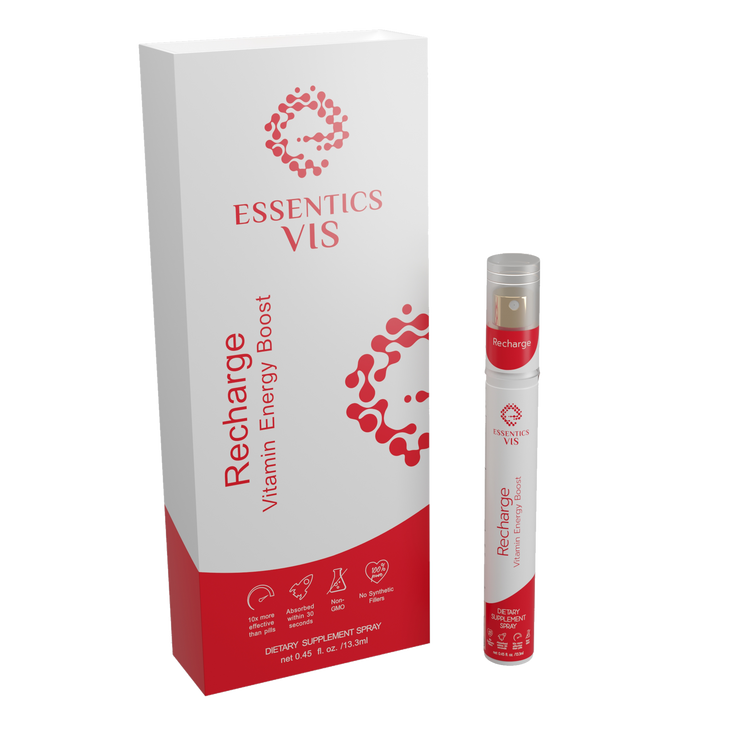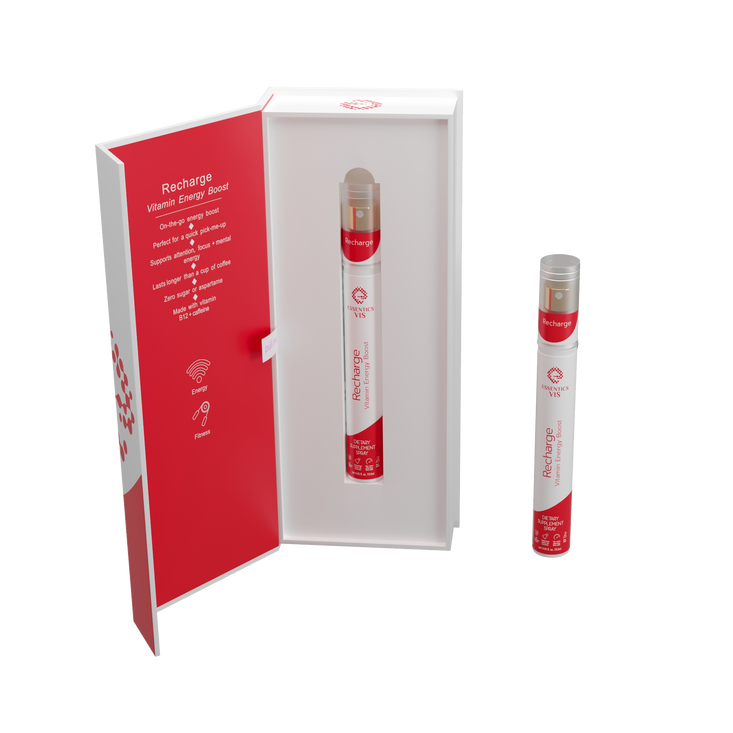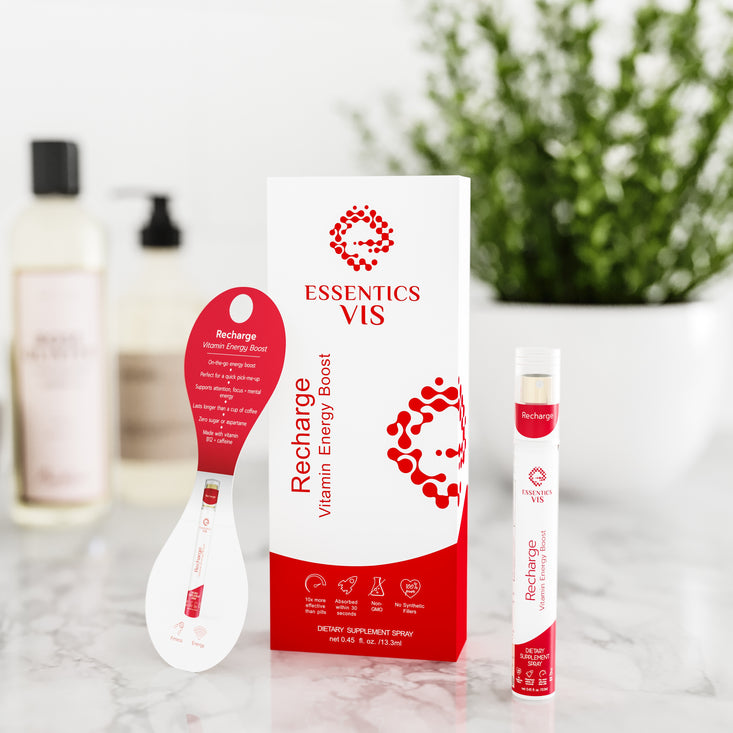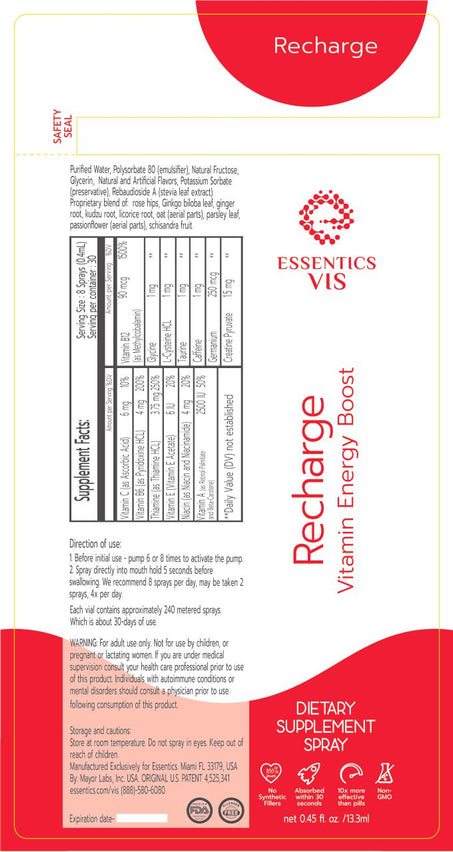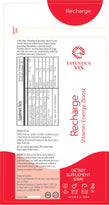 Recharge Vitamin Energy Boost
Due to popular demand, Recharge - Vitamin Energy Boost is currently sold out. Join our waitlist. Thank you for your patience.
If you need an energy boost in the afternoon or morning, look no further. Recharge is the perfect quick pick-me-up. Made with Vitamin B12 and caffeine, this spray gives you instant energy and increased focus and attention with zero sugar or aspartame.
On-the-go energy boost
Perfect for a quick pick-me-up
Supports attention, focus, and mental acuity
Zero sugar or aspartame
Made with Vitamin B12 + caffeine

No Synthetic Fillers
10x More Effective Than Pills
Benefits of RechargeOur Honest Assessment
This is honestly one of our very favorite products. It's fast-acting and efficient, making it a must-have for post-lunch meetings, early morning drop-offs, and any other event that requires just a little more energy than we can muster. Caffeine, creatine, and B12 combine with a host of other vitamins that improve your focus and mood while keeping your body healthy.
Simply spray a couple of pumps of Recharge whenever you need a little more oomph for fast-acting, long-lasting energy and concentration. Formulated without fillers, sugar, or artificial ingredients, it'll give you the boost you need now without a nasty crash later.
TheBenefits
Made with peppermint oil so your breath will smell wonderful
Easy to take with you on-the-go
TSA approved
More effective than a cup of coffee
Includes the essential eight vitamins in the B family
HOW TO VIS
Our sprays are designed to expand your body's capacity to handle mental, physical and emotional stress. And of course fill in any essential nutrients your diet is lacking. All you have to do, is use VIS twice a day.
Key Ingredients
Creatine Pyruvate

This amino acid occurs naturally in your muscles and is often used to increase energy and muscle mass. It's also used to fight fatigue, improve memory and concentration, and prevent neurological diseases.

Vitamin B12

This powerhouse vitamin keeps you from getting fatigued by keeping your nerve and blood cells healthy and thriving. It plays an important role in DNA creation and prevents symptoms of anemia and injury to the nervous system. It also helps your body with energy production and may elevate your mood.

Thiamine

Also known as Vitamin B1, thiamine helps your body convert food to energy. This supplement may prevent heart and nerve problems, and people also use it to improve their mood and combat fatigue.

Vitamin C

This water-soluble antioxidant helps with protein metabolism and cancer prevention. It's used as protection against free radicals and other environmental toxins, and is important in maintaining the health of your skin, bones, and connective tissue. Vitamin C deficiency can cause a host of problems including fatigue and physical ailments.
Learn more about our ingredients here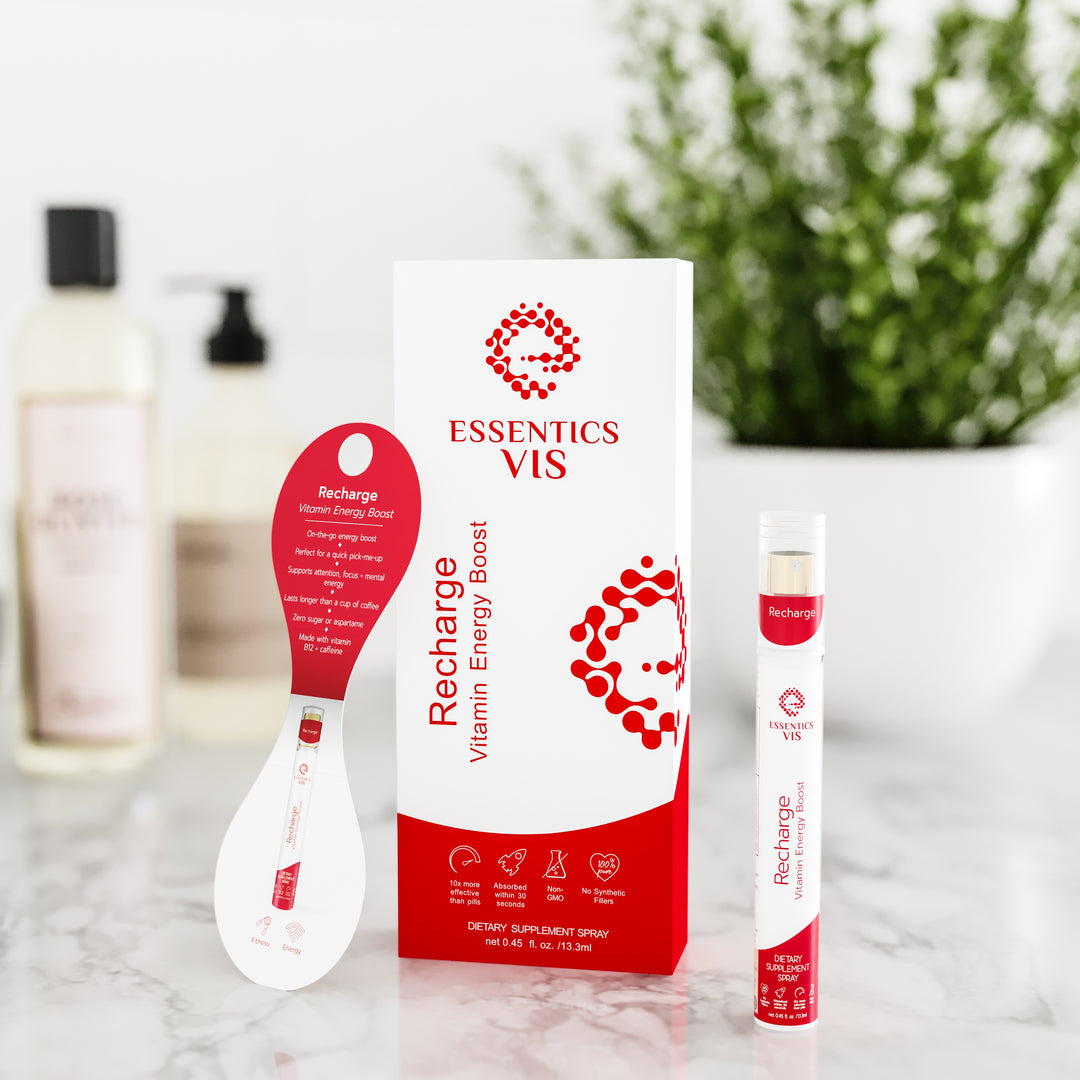 What Quality Means to Us
Before any of our sprays get in your hands we test them. In fact, every single batch of our products are tested in a third party lab for heavy metals, allergens, bad bacteria, yeasts, molds, and pesticides. We love to show our work, so if there are any test results you'd like to see, just contact us.
Absorbed within 30 seconds
Absorbed Within 30 Seconds
Pills and gummies need to break down through digestion first before your body can use them. That's not the case for Essentics Vis. Spray and swallow the supplement spray, and within 30-seconds these nutrients will enter your bloodstream.
FDA Registered Facility
FDA Facility
All our sprays are manufactured to the highest standard in FDA approved facilities in the USA.
Clinically Tested
Clinically Tested
We believe in science. We test our products and choose ingredients based on clinical trials.
3rd Party Tested
3rd Party Tested
We undergo comprehensive testing as part of our Quality Control program. Finished products are tested on a routine basis through a 3rd party. In addition to all this, we actually taste every ingredient that goes into our products as part of our product development process.
10x more effective Than Pills
10 x More Effective Than Pills
Sprays bypass the solubility and absorption problems that accompany traditional nutritional supplements. Spray technology is up to 90% effective, allowing your body to utilize all of the necessary nutrients. Pills, on the other hand, have only and estimated 10 to 15% digestion rate.
Gluten & Allergen Free
Gluten + Allergen Free
All our products are soy and gluten free so that everyone can enjoy the benefits of our spray supplements.
No Sinthetic Fillers
No Synthetic Fillers
The sprays do not contain fillers or binders, as opposed to the makeup of pills. Common fillers include talcum powder, yeast, starch and sugars. Binders are typically made of wax or shellac. When you take pills, you are ingesting this unwanted junk. But not with VIS.
100 Organic
100% Organic
We are committed to bringing you high quality, pure, 100% organic products.
Non-GMO
Non-GMO
We have chosen to make all our products fully GMO free, to protect our planet and the purity of our sprays.
Easy to Dose
Easy to Dose
Every Essentics Vis spray provides an exact and measured amount of liquid, allowing for correct dosing. This also allows for customization of the supplement intake for the needs of each individual.
Us Vs. Them
For years, the medical establishment has been addressing the problem of proper drug and nutrient absorption. They've tried pills, gummies, gel capsules, patches, injections, you name it.
Liquid spray supplementation is the fastest, most effective and convenient way to get a daily dose of vitamins, minerals, amino acids and nutrition. But don't just take our word for it. The proof is in the science.

DISCLAIMER: This product is not for use by or sale to persons under the age of 18. This product should be used only as directed on the label. It should not be used if you are pregnant or nursing. Consult with a physician before use if you have a serious medical condition or use prescription medications. A Doctor's advice should be sought before using this and any supplemental dietary product. All trademarks and copyrights are property of their respective owners and are not affiliated with nor do they endorse this product. These statements have not been evaluated by the FDA. This product is not intended to diagnose, treat, cure or prevent any disease. By using this site, you agree to follow the Privacy Policy and all Terms & Conditions printed on this site. Void Where Prohibited by Law.
VIS Twice a Day?
Your favorite spray vitamins, minerals, and superherbs delivered to your door and priced to please. Every spray offers a 30-day supply. Become a member and never miss a day.
FREE SHIPPING

GET 15% OFF